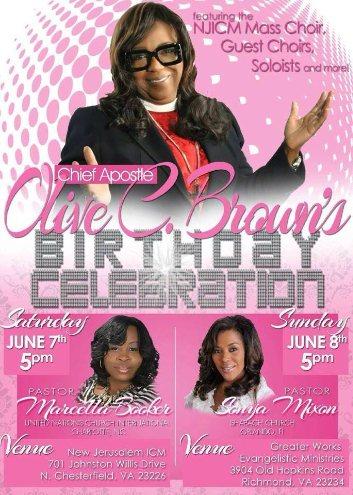 Birthday Celebration for Chief Apostle Olive C. Brown ( O.C. Brown Ministries) - Come help her celebrate her special day. There will be guests, entertainment, special events and more. This will be a celebration full of surprises! You definitely don't want to miss it.
Saturday, June 7th @ 5pm - There's a praise party coming to the City of New Jerusalem ICM!
Special guest Pastor Marcella Booker will help us get this party started right!
Venue: New Jerusalem ICM 701 Johnston Willis Drive North Chesterfield Va 23226
The celebration will culminate on Sunday, June 8th @ 5pm. -
Guest Speaker: Pastor Sonya Mixon
Venue: Greater Works Evangelistic Ministries
3904 Old Hopkins Rd, Richmond Va 23234 - Bishop Duane Bell, Sr. Pastor.
Featuring NJICM Mass Choir, Guest Choirs & soloists and more.