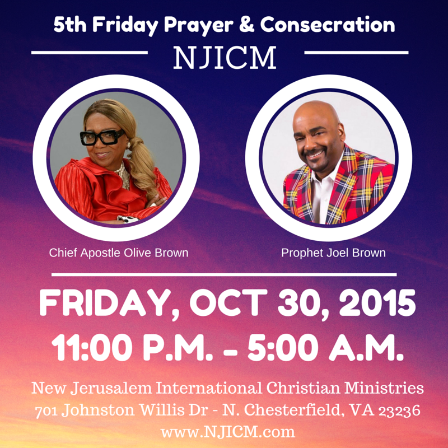 Miracles - Bodies Healed - Souls Saved!
Join Prophet Joel Brown, Chief Apostle Olive Brown, and the New Jerusalem ICM church family in this POWERFUL WEEK OF PRAYER & FASTING! May 26-29
-Tuesday - Thursday: fasting until 4:00 PM
-Healing and Deliverance service Wednesday night at 7 PM
-From 5 AM Friday until 5 AM Saturday, we will be fasting.
-5th Friday All Nigh Prayer will be held at New Jerusalem ICM: 701 Johnston Willis Dr. 11 PM - 5 AM. PRAYER/PRAISE/IMPARTATION.
Jesus said, "some things come only by prayer and fasting!"
Come & get what you need!
BLESSINGS!!!