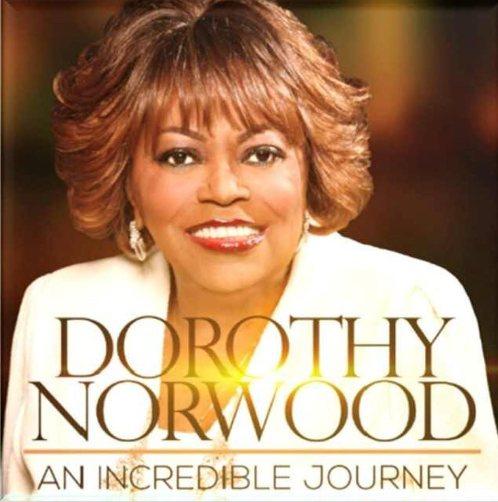 New Jerusalem International Christian Ministries is honored to have the Dorothy Norwood as our special musical guest on Sunday, July 12th at 11:00 a.m. worship service! Worship with us at 701 Johnston Willis Drive - North Chesterfield, VA 23236
The World's Greatest Gospel Story Teller
Nothing short of a living legend, The World's Greatest Storyteller, Dorothy Norwood has been entertaining, preaching, uplifting, mentoring, writing, and producing for more than fifty years.
Dorothy Norwood officially began her gospel career in 1956, singing with Mahalia Jackson, Reverend James Cleveland, and with one of the greatest female gospel groups of all time, The Caravans. In 1960, she launched her solo career with Savoy Records, recording her first album, Johnny and Jesus in 1964. This release was quickly followed by Denied Mother in 1965, earning Norwood the title, "The World's Greatest Storyteller." Both projects certified gold. All total, five albums reached gold status. 1971, she recorded Live with the GMWA Mass Choir of Northern California; Live reached #1 on the Billboard Charts. To her credit, she has also had three top ten gospel albums and been in the top forty fourteen times (Billboard).
In 1972, she became an unlikely opening act for the Rolling Stones' national tour with Mick Jagger. By 2000, Ms. Norwood was nominated for the Lady of Soul Award for her album, The Lord is a Wonder. She followed that nomination with two more at the 2001 Dove Awards for Ole Rickety Bridge (Traditional Album of the Year) and "There's Got To Be Rain" (Traditional Gospel Recorded Song of the Year).
In 2005, Norwood won the Soul Train Lady of Soul Award for "Stand on the Word," and was inducted into the International Gospel Music Hall of Fame twice; for her work as a solo artist as well as with The Caravans. The American Quartet Hall of Fame also inducted The Caravans in 2006 and Norwood reunited with the group to produce what would become a Billboard chart topping album, Paved The Way (Malaco). Paved The Way also garnered nominations in every major industry award group including the Grammy's, Doves, Stellars, and Soul Train.
On January 14, 2012, Ms. Dorothy Norwood received the recipient of the prestigious Ambassador Dr. Bobby Jones Legends Awards at The Grand Ole Opry House in Nashville, TN during the 2012 Stellar Awards taping.
For decades, millions have been blessed by her classic, "Victory Is Mine; arguably, one of the greatest congregational hymns of all time which still appears in national commercials and Hollywood feature films such as "The Help", 5 time, 2012 Golden Globe nominated and Oscar buzz motion picture.
On March 20, 2012, Dorothy Norwood recorded "God's Been Just That Good." Ms. Norwood's signature voice is backed by the young, bright, fresh sounding voices of Isaiah Thomas & EOP (Appears Courtesy Of Good Fellas Music Group) and the result is truly a heavenly mix. The debut single, "Just That Good", Ms. Norwood pays tribute to her best friend and mentor, The Queen of Gospel, The Late Albertina Walker. Upon listening, you will be drawn into worship and your hands will go up in praise.
The Legendary Dorothy Norwood did it again; she recorded her 52nd album "An Incredible Journey". It's noted as her best yet. The single was released on February 18, 2014; titled "When The Church Begins To Pray" featuring Melvin Williams. The full project is available in stores now!
For nearly every year of her professional career singing gospel music, Dorothy Norwood has recorded an album. Dorothy Norwood's latest recording was released on her own label, Dorothy Norwood Music Group (DNMG).
Dorothy Norwood truly can testify that it's been "An Incredible Journey!"