Thursday, September 03 2015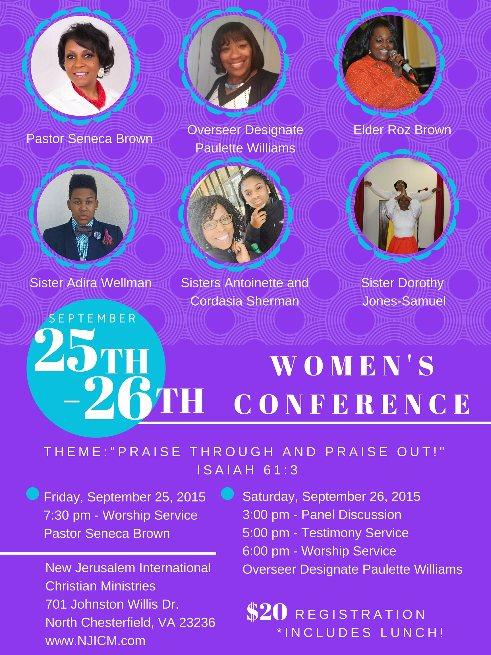 September 25th – 26th
Women's Conference 2015
a. Friday Speaker: Elder Seneca Brown – 7:30pm
b. Saturday – 3:00pm – Panel Discussion
c. Saturday Speaker: Overseer Designate Paulette Williams – 6:00pm
d. Registration is $20- includes lunch
e. Please see Deaconess Pamela Kiah or Minister Adrienne Rozier
Friday, October 2nd -7:00 p.m.
Prophet Joel Brown's Birthday Celebration
Location: NJICM
Special Guest: Minister Isaish D. Thomas, Washington, DC
Friday, October 30th at 11:00 p.m.
5th Friday All Night Prayer
Friday, November 20th at 11:00 p.m. – 5:30 a.m.
Youth of Destiny
Fall Lock In @ YMCA
INVITED guest: Artist Alex Holt & Free Worship ( Tidewater)
Featuring praise & worship, speakers, pep rally, basketball game
Breakout sessions and more!
December 4th
Chief Apostle Olive C. Brown
Anniversary Celebration!
Guest speaker : Bishop Ron Gibson
Location: TBD