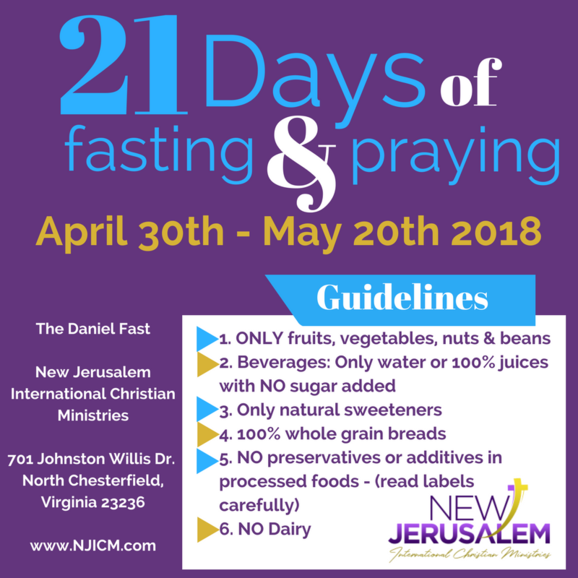 DANIEL FAST– 21 Days
Medical Disclaimer: If you are under the care of a physician, consult your physician before participating in the Daniel Fast. Follow all orders which have been prescribed by your physician.
DANIEL FAST – is a biblically based partial fast. It is a method of fasting that men women and young people all over the world are using as they enter into the spiritual discipline of prayer and fasting.
• DATE: Monday, April 30th, through Sunday, May 20th (ending at 12 noon, or after Sunday Worship)
• FOCUS
o Spending quality time WITH God
o Incorporating Godly principals into all you do in life, family business and/or school
o This is a corporate fast, not an individual fast.
• GOAL
o Renewing our relationship with God
o Creating a holistic move toward serving God, Mind, Body and Spirit.
o Living a healthy life. "Beloved, I pray that all may go well with you and that you may be in good health, just as it is well with your soul. "3 John 1:2 NRSV
o Greater discipline
o Power, to defeat the enemy! "And he said unto them, This kind can come forth by nothing but by prayer and fasting Mark 9:29KJV
DANIEL FAST GUIDELINES:
1. ONLY fruits and vegetables (beans included)
2. NUTS
3. Beverage(s): Only water or 100% juices (NO Sugar Added)
4. ONLY Natural Sweeteners
5. 100% Whole Grain Breads
6. NO preservatives or additives in processed foods – (read labels carefully)
7. NO Dairy
YOUTH:
Parents and Youth Leaders are encouraged to include ALL Youth in this time of fasting. If only for certain days during the week, encourage no sweets, sodas -(only water or 100% juices), no video games, limited TV time, and no movies. Let them know that this is NOT a punishment; this is the way We, as the Body of Christ, get closer to HIM and gain strength to do ALL THINGS THROUGH CHRIST - Phil. 4:13. Let them know that this is NOT an option, this is a requirement. They don't have to do all 21 days, but they MUST DO SOMETHING, WE ALL MUST!